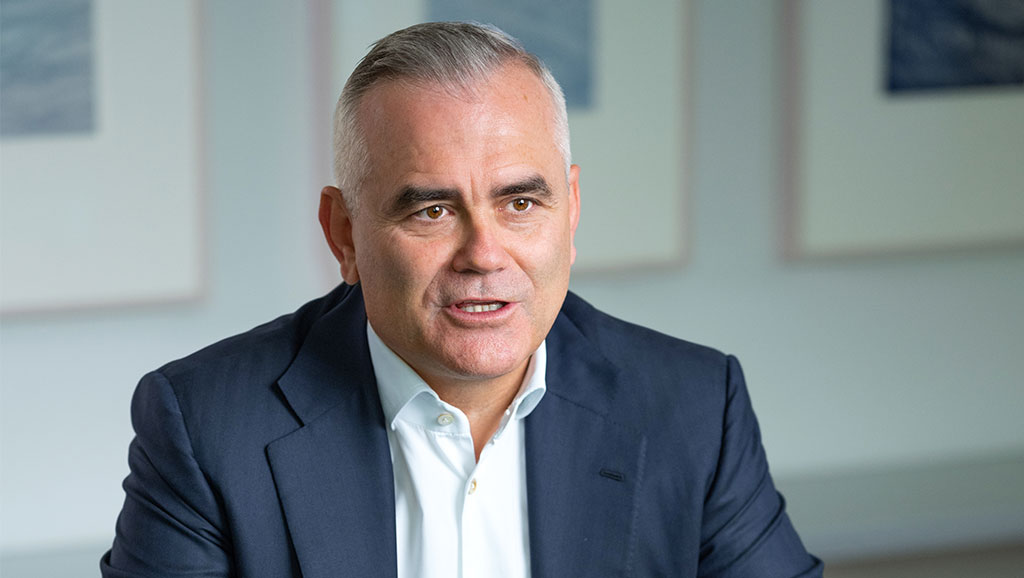 21 Sep

A turbocharged transformation: Banks quickly adapt to COVID to continue providing best service
Thomas Gottstein, Group CEO, Credit Suisse, highly values the importance of innovation towards the bounce-back of the worldwide economy
Credit Suisse is one of Switzerland's two largest banks and a leading global provider of integrated financial services with operations in about 50 countries. Group CEO, Thomas Gottstein, looks at how banks have taken on the challenge of the pandemic.
One big difference between this crisis and the financial crisis of 2008 is that this time banks are part of the solution and not the root of the problem. Credit Suisse entered 2020 well capitalized and with a lower risk profile, having responded to the last crisis with a restructuring program, which drew to a close at the end of 2018. This allowed us to continue delivering on our core function: providing advice and investment solutions to our clients, while also supporting the health of capital markets and innovating for corporates in need of financing. Our 48,500 employees rose to the occasion, giving businesses and entrepreneurs the greatest chance to return to growth and hiring, and enabling global investors by providing them with quality analysis and advice on allocation of capital. Our financial results confirm that: our first half net profit was the highest in ten years and during the pandemic our credit rating was affirmed by a major agency, which cited our resilience and prudent risk management. Swiss-based banks like Credit Suisse are known for security, and the stability of the Swiss economy, political system and banking platform is an important asset for us, especially in turbulent times. Switzerland led the way in getting loan payments and other stimulus in the hands of the private sector. We took a leading role in helping establish the loan-guarantee initiative for small- and medium-sized businesses and, through its duration, Credit Suisse extended $3.6 (CHF3.3) billion in loans out of the roughly $19 (CHF17) billion program. In keeping with our community focus, any net profit from these loans will be donated to projects supporting Swiss companies in difficulty.
Have any long-term trends emerged in banking as a result of this crisis?
Credit Suisse tailors individual solutions and responds to how clients want to interact with us. Our industry is being impacted by key secular trends including the acceleration of digitalization, the importance of sustainability, the growth of private markets and reshaping of industries driving financing needs. Many of these trends have only been accentuated by the COVID-19 pandemic. At the end of July, alongside our first-half results, we took the opportunity to optimize and align our business model to drive further upside and provide resilience to navigate less constructive conditions. We took four significant steps: creating a global investment bank, uniting our compliance and risk functions, the creation of a new sustainability, research and investment solutions (SRI) function, and to merge Neue Aargauer Bank into our Swiss business to position it to meet new clients' needs and drive further growth. Meanwhile, the ultra-low and even negative interest rate environment will likely persist given the severity of the global recession. That may pose challenges for some but Swiss banks have lived with this reality for years and have already made adjustments.
What is the thinking behind your new sustainability unit?
Sustainability is a mission for us as a global corporation and as a bank whose clients are hungry for investment opportunities in this growing field. With our new SRI function, we aim to be a leader in this field. Led by SRI CEO Lydie Hudson, who is a member of our 11-strong executive board, it also benefits from a named board of directors' sustainability leader in Iris Bohnet, and designated sustainability leaders in every division and function. We have made a series of new commitments and restrictions to propel our progress in this regard. The pandemic is a stark reminder that sustainability is a requirement for growth and prosperity, not an impediment. Financial performance need not suffer from this focus.
What does innovation mean for Credit Suisse?
It's in our DNA. Credit Suisse was founded in 1856 and got its start financing Switzerland's railway. Our founder spearheaded construction of the famous Gotthard Tunnel that connected central and southern Europe through Switzerland—a technological marvel with lasting economic and societal benefits. Advances in big data, blockchain and cloud computing are an evolution of this. In September we announced the launch of 'CSX', a digital banking offering enabling our Swiss clients to conduct their daily banking in a swift, straightforward and convenient manner using an app, supported by a new concept for branches connecting the digital and the personal. This is a revolutionary move in our home market.
As the new group CEO, what are your ambitions for the future?
Our ambition is to be the leading bank for entrepreneurs worldwide. Our recent restructuring strengthened our world class wealth management platform and maximizes our investment banking capabilities. It also set the foundation for long-term business growth at home in Switzerland and other developed economies such as the U.K. and U.S., as well as emerging economies in Asia, Latin America and Africa.